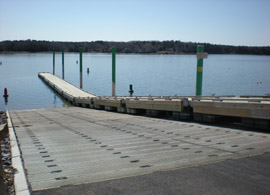 Boat launch facility, Merepoint,
Brunswick, ME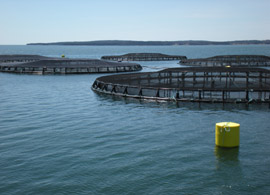 Cooke Aquaculture salmon aquaculture site


Tagging a large reproductive lobster for tracking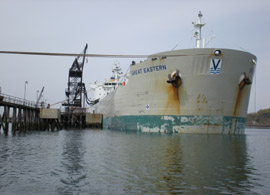 Tanker at oil import terminal, So. Portland, ME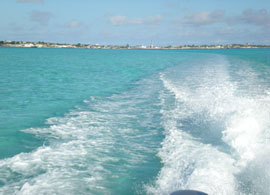 Heading out of Cockburn Harbour,
South Caicos Island, TCI
PARTIAL CLIENT LIST
Appledore Marine Engineering, Inc.
MER has assisted Appledore Marine Engineering, Inc. (AMEI) with benthic surveys and marine habitat characterizations associated with improvements and maintenance at United States Coast Guard (USCG), U.S. Navy (USN), and private commercial and industrial facilities.  Projects include dredging of berths and access channels at USCG Stations in Boothbay Harbor and South Portland, Maine and Newcastle, New Hampshire; maintenance dredging and quay wall reinforcement at USN Portsmouth Naval Shipyard, Kittery, Maine; float system installation at USN Air Station Key West, Florida; University of New Hampshire pier removal and replacement, Newcastle, New Hampshire; and Piscataqua River ship terminal, Portsmouth, New Hampshire.
Caicos Cobia (CC) is proposing an offshore cobia, Rachycentron canadum, aquaculture farm site along the eastern shore of Long Cay, South Caicos Island, Turks and Caicos Islands (TCI).  MER conducted a benthic video assessment and current velocity and direction study at the site in January, 2009.  Since Caicos Cobia's proposal is the first offshore finfish aquaculture project proposed in the TCI, MER has also developed a Monitoring Plan for the proposed project for submission to the TCI Department of Environment and Coastal Resources (DECR) for its consideration.  As the project develops, MER will assist with the evaluation of any benthic impacts associated with the installation and operation of cages and training of local on-site divers and observers on monitoring techniques.
MER provides Cooke Aquaculture with site evaluation and monitoring services for its Atlantic salmon, Salmo salar, farms located along the Maine coast from Black Island, Frenchboro to Cobscook Bay, Lubec.  MER also serves as a HACCP auditor of Cooke Aquaculture's Containment Management System (CMS) program at its land-based hatcheries and marine farm sites.  MER has been servicing the Maine finfish aquaculture industry since 1988.
Downeast LNG is proposing the installation of a liquefied natural gas (LNG) import facility in Mill Cove, Robbinston, Maine on Passamaquoddy Bay.
MER has been assisting Downeast LNG with its Federal Energy Regulatory Commission (FERC) and Maine Department of Environmental Protection (DEP) permit application process since 2006.  MER's role focuses on the collection and development of baseline information on the marine habitat and resources within the project area.  Targeted studies on the American lobster, Homarus americanus, resource include fishery-independent video-documented diver surveys of the project area and other areas along Western Passage and St. Croix River and fishery-dependent trapping within Mill Cove and vicinity using standard commercial gear and modified ventless traps.  MER is also conducting seasonal ichthyoplankton and zooplankton sampling throughout the year and lobster larvae sampling from late-spring through late-summer.
MER has been working with Ecology and Environment and C. R. Environmental on the Suez LNG NA's Neptune Deep Water Port in Massachusetts Bay since 2004.  MER's work involves assistance with benthic habitat characterization along the pipeline route and within the terminal area, specifically focusing on habitat utilization by American lobsters, Homarus americanus, and other commercially-important species.  MER also prepared a review of the commercial lobster fishery within the project area in support of a project schedule specifically designed to minimize or avoid impacts to commercial lobster fishing.
GreatBay Aquaculture is developing an Atlantic cod, Gadus morhua, farm at a deepwater site in Frenchman Bay, Sorrento, Maine.  MER conducted a baseline survey at the site that included water column profiles, remote video recordings, benthic grab sampling, and current measurements.  MER will continue to assist with site identification and evaluation as GBA expands to more offshore sites.
Maine Department of Inland Fisheries and Wildlife
Maine Department of Marine Resources
MER has assisted OFT, a Maine-based company, with evaluation of current forces acting on its Aquapod™ open ocean sea cage system deployed at Culebra Island, Puerto Rico to improve mooring system design.  MER is looking forward to further assisting OFT with environmental assessments at future AquapodTM installations.