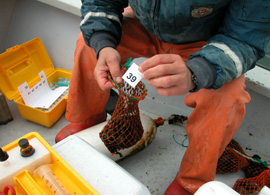 Collecting mussel samples for the Intensified
Paralytic Shellsfish Poisoning (IPSP) program

Preparing to dive and record a benthic
video survey

SERVICES:
Environmental monitoring
MER has over 20 years of experience in marine environmental monitoring that includes sampling general water quality, fecal coliform in compliance with the National Shellfish Sanitation Program (NSSP), paralytic shellfish poisoning (PSP), and analysis of benthic infauna community structure changes related to organic loading, among others.

MER has been involved in the monitoring of salmon farm sites since 1988, both as a contractor to the industry and the State of Maine. MER is a State of Maine certified Aquaculture Environmental Monitoring Contractor approved by the Maine Department of Environmental Protection (DEP) and the Maine Department of Marine Resources (DMR).  MER's laboratory is certified by the Maine DEP to perform redox and sulfide measurements as required by the Maine DEP's General Permit for Salmon Aquaculture.  MER is a repository for finfish aquaculture-related baseline and/or post-development environmental data collected at over 54 locations along the Maine coast. 
MER's staff is also Hazard Analysis Critical Control Point (HACCP) certified and conducts containment audits for Endangered Species Act-listed Atlantic salmon, Salmo salar, for the Maine salmon industry.  MER is also an A-listed contractor with the Maine Department of Environmental Protection for Natural Resources Damage Assessment (NRDA).